About Us
Fab Kebab is a Indian takeaway in Coleraine. Why don't you try our Chicken Fillet Burger with Salad & Mayo or Tandoori Mixed?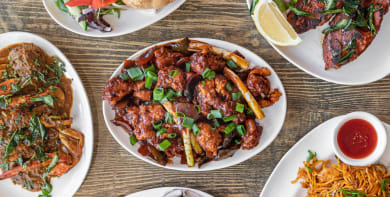 Reviews
107 reviews
jeni
"Food was great! And delivered quicker than I expected. Thanks"
14/07/2021
Siobhan
"Great food. Hot and delicious. Delivery was early, which was welcomed."
25/06/2021
Saad
"Great food!"
11/06/2021
TIM
"VERY GOOD FOOD !!"
03/05/2021
Menu
Special Curry
Boneless tandoori chicken, mince, peas, coriander & chilli
Medium
£10.95
Special Biryani
Rice with mince, prawn served with vegetable curry
Medium
£10.95
Chicken Tikka Masala
Chicken tikka cooked in a rich creamy sauce
Mild
£10.95
Jalfrezi
Cooked with capsicum served in chef`s special sauce
Medium
£10.95
Madras Chicken
Fairly hot
£9.00
Madras King Prawn
Fairly hot
£10.95
Vindaloo Chicken
Very hot
£9.50
Vindaloo King Prawn
Very hot
£10.95
Korma Beef
Cooked with coconut & almond in a sweet creamy sauce
Mild
£9.95
Korma Chicken
Cooked with coconut & almond in a sweet creamy sauce
Mild
£9.95
Korma Lamb
Cooked with coconut & almond in a sweet creamy sauce
Mild
£9.95
Korma King Prawn
Cooked with coconut & almond in a sweet creamy sauce
Mild
£11.95
Rogan Josh Beef
Gently spiced with tomato, green herbs & cream
Mild
£9.95
Rogan Josh Chicken
Gently spiced with tomato, green herbs & cream
Mild
£9.95
Rogan Josh Lamb
Gently spiced with tomato, green herbs & cream
Mild
£9.95
Rogan Josh King Prawn
Gently spiced with tomato, green herbs & cream
Mild
£11.95
Kashmiri Beef
Cooked in a mild sauce with Indian fruit
Mild
£9.95
Kashmiri Chicken
Cooked in a mild sauce with Indian fruit
Mild
£9.95
Kashmiri Lamb
Cooked in a mild sauce with Indian fruit
Mild
£9.95
Kashmiri King Prawn
Cooked in a mild sauce with Indian fruit
Mild
£11.95
Malayan Beef
Delicate mild sauce with pineapple
Mild
£9.95
Malayan Chicken
Delicate mild sauce with pineapple
Mild
£9.95
Malayan Lamb
Delicate mild sauce with pineapple
Mild
£9.95
Malayan King Prawn
Delicate mild sauce with pineapple
Mild
£11.95
Makhani Beef
Cooked with butter, coriander, green chilli & tomato
Medium
£9.95
Makhani Chicken
Cooked with butter, coriander, green chilli & tomato
Medium
£9.95
Makhani Lamb
Cooked with butter, coriander, green chilli & tomato
Medium
£9.95
Makhani King Prawn
Cooked with butter, coriander, green chilli & tomato
Medium
£11.95
Dansak Beef
Cooked with lentils, coriander & mango chutney
Medium
£9.95
Dansak Chicken
Cooked with lentils, coriander & mango chutney
Medium
£9.95
Dansak Lamb
Cooked with lentils, coriander & mango chutney
Medium
£9.95
Dansak King Prawn
Cooked with lentils, coriander & mango chutney
Medium
£11.95
Pathia Hot Beef
Cooked with mango chutney, coriander, chilli & tomato
Sweet & sour
£9.95
Pathia Hot Chicken
Cooked with mango chutney, coriander, chilli & tomato
Sweet & sour
£9.95
Pathia Hot Lamb
Cooked with mango chutney, coriander, chilli & tomato
Sweet & sour
£9.95
Pathia Hot King Prawn
Cooked with mango chutney, coriander, chilli & tomato
Sweet & sour
£11.95
Karahi Beef
Cooked with extra spice, onions & capsicum
Medium
£9.95
Karahi Chicken
Cooked with extra spice, onions & capsicum
Medium
£9.95
Karahi Lamb
Cooked with extra spice, onions & capsicum
Medium
£9.95
Karahi King Prawn
Cooked with extra spice, onions & capsicum
Medium
£11.95
Dupiaza Beef
Delicately spiced with onion, tomato, chilli & coriander
Medium
£9.95
Dupiaza Chicken
Delicately spiced with onion, tomato, chilli & coriander
Medium
£9.95
Dupiaza Lamb
Delicately spiced with onion, tomato, chilli & coriander
Medium
£9.95
Dupiaza King Prawn
Delicately spiced with onion, tomato, chilli & coriander
Medium
£11.95
Punjabi Masala Beef
Spiced with capsicum & served in a masala sauce
Medium
£9.95
Punjabi Masala Chicken
Spiced with capsicum & served in a masala sauce
Medium
£9.95
Punjabi Masala Lamb
Spiced with capsicum & served in a masala sauce
Medium
£9.95
Bhuna Beef
Gently spiced with mushroom, onion & tomato
£9.95
Bhuna Chicken
Gently spiced with mushroom, onion & tomato
£9.95
Bhuna Lamb
Gently spiced with mushroom, onion & tomato
£9.95
Bhuna King Prawn
Gently spiced with mushroom, onion & tomato
£11.95
Chicken Khara
Chicken tikka, fresh lemon, mango chutney & green herbs
£10.95
Zam Zam Pleasure
Chicken, lamb & prawns cooked in chef`s special sauce
£10.95
Chicken Bahar
Chicken tikka, thick mild sauce, fresh coriander & sultanas
£10.95
Chicken Tikka Dupiaza
Barbecued chicken, cubed spicy onion with green herbs
£10.95
King Prawn Balti
Sweetcorn, capsicum, tomatoes & herbs
£10.95
Balti Chicken
Sweetcorn, capsicum, tomatoes & herbs
£10.95
Balti Lamb
Sweetcorn, capsicum, tomatoes & herbs
£10.95
Chicken Chilli Bhuna
Barbecued chicken, mushrooms, capsicum, fresh chilli & coriander
Hot
£10.95
Shahi Jalfrezi Chicken
Barbecued chicken OR lamb, capsicum, onion, tomato, egg & green herbs
£10.95
Shahi Jalfrezi Lamb
Barbecued chicken OR lamb, capsicum, onion, tomato, egg & green herbs
£10.95
Mixed Vegetable Curry Side
£5.00
Mixed Vegetable Curry Main
£7.50
Sauce BBQ and Tomato Sauce
£0.90
Chicken Fillet Burger with Salad & Mayo
£3.60
Chicken Fillet Burger with Cheese
Salad & mayo
£3.80
Chicken Fillet Burger with Pineapple
Salad & mayo
£3.80
Quarter Pounder Cheese Burger
£3.50
Quarter Pounder Salad Burger
£3.50
Quarter Pounder Hawaiian Burger
£3.50
Kids Chips & Chicken Nuggets
£4.00
Kids Fish Fingers & Chips
£4.00
Contact Us
Find Us
15 Waterside, Coleraine, BT513DP
We deliver to
BT51, BT52, BT53, BT55, BT56